Sixth Street Baptist Church
15 Sixth Street P.O. Box 818
Map
Lakewood, NJ 08701
Phone:
(732) 363-1377
Email:
verizon.net@ssbc1523
Sixth Street Baptist Church is located in the heart of Lakewood New Jersey. Whether you are about to visit for the first time or the tenth time, we have been preparing for you! We have made every effort to make sure your visit with our church family is enjoyable and rewarding. We want you to come back and be a part of us. We have convenient parking and you will be surrounded within a warm welcoming environment. From the minute you arrive, we have ushers with smiling faces waiting to assist you and your family to a great set of seats for you to be comfortable in our Worship service.
Nobody can go back and start a new beginning .......... "but" ..........Anyone can start a new today and make a new ending
Allowing Christ in your heart today, will make the difference in your life tomorrow. Welcome "Him" today!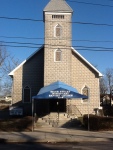 About Sixth Street Baptist Church
Sixth Street Baptist Church is one of the oldest churches in Lakewood. Our mission is to spread the Gospel of Christ, throughtout our community and the world we live in. We strive to lift up the name of Jesus in our daily living, our love for one another, and through our worship and service to our Lord. Come out and let us glorify the Lord together.we are a people with a purpose living out Gods plan for our lives. If you are looking for greater understanding of Gods word and how it applies to your life join us, we here at Sixth Street welcome you to worship with us on Sunday mornings @ 11:00a.m. and /or Wednesday nights @ 7:00p.m. for our "Back to Basic Bible Study". check out our calendar for times and other weekly activities.
Statement of Beliefs
God declares us righteous when we believe. We here at The Sixth Street Baptist Church believe in One God, One Faith and One Baptism. We believe that Jesus the Christ is the Son of God, transformed from spirit to flesh, to live amongst us as God living sacrifice. We believe that Jesus committed and gave his life so that we could be free from Sin, and have eternal life.